by Thérèse N. Marshall
Eduardo De Filippo, the famous Neapolitan actor, playwright, screenwriter, author and poet, best known for his works Filumena Marturano and Napoli Milionaria. once said, "Quanno vene 'a notte e 'o core se ne scenne, mangia 'na sfogliatella e 'o core se ne saglie!" ("When the night falls and your heart sinks deep, eat a sfogliatella and your heart will soar!")
When you go on a trip to Naples it is absolutely impossible to resist the temptation to avidly bite into one of its typical desserts, the "Sfogliatella". It is one of the most renowned and widely-appreciated symbols of the illustrious gastronomic and confectionery tradition of Campania. There are two variants: the "riccia" (with a very thin, flaky, crispy Phyllo pastry casing) or the "frolla" (with a soft and crumbly shortcrust pastry casing), enclose a scrumptious filling made of semolina, milk, ricotta cheese, sugar and eggs, flavoured with cinnamon, orange blossom and "millefiori" flavourings that give it its unmistakable, highly fragrant aroma.
The origins of the "Sfogliatella"
The tradition linked to the "Sfogliatella" dates back to 1600, where on the Amalfi Coast (Salerno), more specifically in the area located between Furore and Conca dei Marini, there was the convent of Santa Rosa (St. Rose), inhabited by cloistered nuns.
One day, going beyond her usual culinary routine, a nun named Clotilde decided to make a dessert using some leftover semolina which she soaked in milk, added some lemon liqueur (now known as "limoncello" and some dried fruit. She made this mixture go further by adding some wine and lard. Then she created a pocket-like pastry casing resembling a monk's hood that she stuffed with the fragrant filling and finally she baked it in the convent oven. This was topped with a swirl of confectioner's custard filling and a black cherry.
Little did she know that she had created a dessert, known as the "Santa Rosa", named after the convent, that would be adored by Neapolitans and tourists alike for time immemorial.
The "Santa Rosa"
The Neapolitan "Sfogliatella"
The dessert arrived in Naples only 200 years later. The secret recipe of the "Santa Rosa" jealously cherished by convent was discovered and revisited by innkeeper Pasquale Pintauro who discovered and revisited the traditional recipe. He transformed his small tavern in Via Toledo into a renowned confectionery workshop. After having removed the cream filling and black cherry topping, Pintauro modified the aesthetic appearance of the dessert, by enclosing the filling in a shell-shaped Phyllo pastry casing.
The "Sfogliatella Frolla" (with a shortcrust pastry casing)
The "Sfogliatella Riccia" (with a Phyllo pastry casing)
Pintauro's pastry shop is still open today, although it has changed management, yet its original name and shop sign remains; every day, it churns out countless "sfogliatelle" to the delight of the many visitors, coming from near and far, lured by the unmistakable fragrance the pervades the streets of Naples.
Variations to the original recipe
In addition to the two classic versions of the Sfogliatella: the "riccia" (with a Phyllo pastry casing) and the "frolla" (with a shortcrust pastry casing), also the original "Santa Rosa" can still be found today (garnished with cream and sour black cherries in syrup), alongside the "Coda di aragosta" (lobster tail) that has a more-elongated Phyllo pastry casing and a wide variation of fillings (confectioner's cream, fresh cream or chocolate).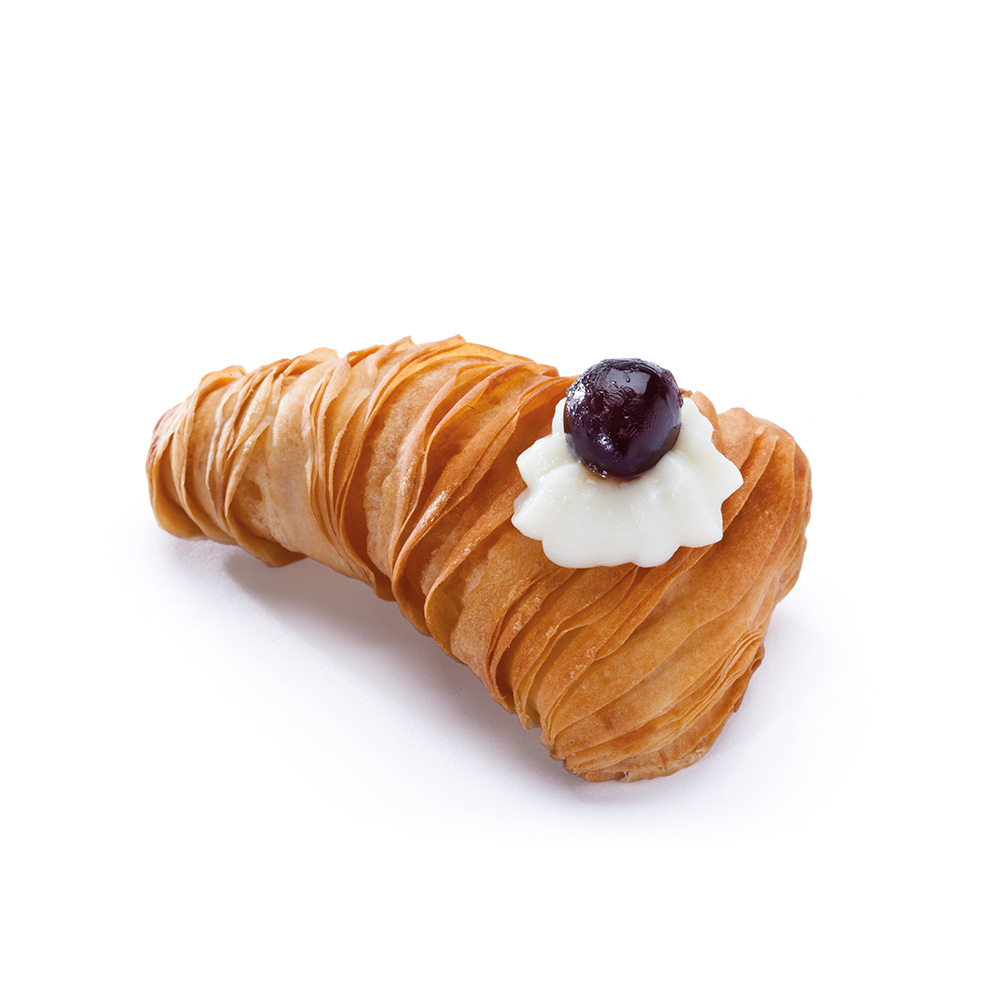 The "Coda di aragosta" (Lobster tail)
There is no lack, of course, of the most original variations at the discretion of the style and creativity of the individual pastry shops. In fact, nowadays you can find not only innovative variations of the original dessert, such as "Vesuviella", reminiscent of the nearby Mount Vesuvius, "Konosfoglia" with an ice-cream filling and "Campanella", cone-shaped delicacies with a Sfogliatella and rum baba all rolled into one, or there are also savoury versions that are ideal examples of street food to keep away the hunger pangs while strolling through the bustling streets of Naples.
The "Konosfoglia" (Ice-cream filled Phyllo pastry cone)
Below are two poems, taken from the website: http://sfogliatella.it/ written in the Neapolitan dialect dedicated to these two delicacies of traditional Neapolitan patisserie:
Tra Amalfi e Positano, mmiez'e sciure
nce steva nu convent'e clausura.
Madre Clotilde, suora cuciniera
pregava d'a matina fin'a sera;
ma quanno propio lle veneva'a voglia
priparava doie strat'e pasta sfoglia.
Uno 'o metteva ncoppa,e l'ato a sotta,
e po' lle mbuttunava c'a ricotta,
cu ll'ove, c'a vaniglia e ch'e scurzette.
Eh, tutta chesta robba nce mettette!
Stu dolce era na' cosa favolosa:
o mettetteno nomme santarosa,
e 'o vennettene a tutte'e cuntadine
ca zappavan'a terra llà vicine.
A gente ne parlava, e chiane chiane
giungett'e' recchie d'e napulitane.
Pintauro, ca faceva 'o cantiniere,
p'ammore sujo fernette pasticciere.
A Toledo nascette 'a sfogliatella:
senz'amarena era chiù bona e bella!
'E sfogliatelle frolle, o chelle ricce
da Attanasio, Pintauro o Caflisce,
addò t'e magne, fanno arrecrià.
So' sempe na delizia, na bontà!
English translation:
Between Amalfi and Positano,
immersed in a floral array
there was a cloistered convent.
Sister Clotilde, assigned to kitchen duties
Prayed from morning to night;
yet when it took her fancy
she prepared two layers of pastry.
Putting one on top and the other underneath,
Stuffed with a filling made with ricotta cheese.
Eh, she put all this stuff inside!
This dessert was absolutely unique:
It was called "Santa Rosa",
and it was sold to all the peasants
who hoed the local land.
It became the talk of the town, gradually
the Neapolitans heard of it.
Pintauro, once an innkeeper, to make it,
magically turned into a pastry chef.
The "Sfogliatella" was born on Via Toledo:
it was more beautiful and delicious without its black cherry!
'Sfogliatelle either "frolle", or "ricce"
Whether you eat them at Attanasio's, Pintauro's or Caflisch's,
they're finger-lickin good.
They're always so delightful, a true delicacy!
So' doje sore: 'a riccia e a frolla. Miez'a strada, fann'a folla.
Chella riccia è chiù sciarmante: veste d'oro, ed è croccante, caura, doce e profumata.
L'ata, 'a frolla, è na pupata. E' chiù tonna, e chiù modesta, ma sì a guarde, è già na festa!
Quann'e ncrontre ncopp'o corso t'e vulesse magnà a muorze.
E sti ssore accussì belle sai chi sò? Sò 'e sfugliatelle!
English translation:
There are two sisters: the "riccia" and the "frolla". People come to see them from near and far. The "riccia" is more enchanting: adorned with gold, she is crispy, hot, sweet and fragrant. While the other, the "frolla" looks just like a doll. She is more robust, more modest and she makes many heads turn! When you meet them in the street, you would love to eat them with your eyes!
Do you know who these beautiful sisters are? They're sfogliatelle!


There are countless places where sfogliatellas can be savoured, here are only a couple to whet your appetite!
Pintauro: https://www.pintauro.eu/it/
Attanasio: http://sfogliatelleattanasio.it/home.html
Cuor di Sfogliatella: https://www.cuoridisfogliatella.it/